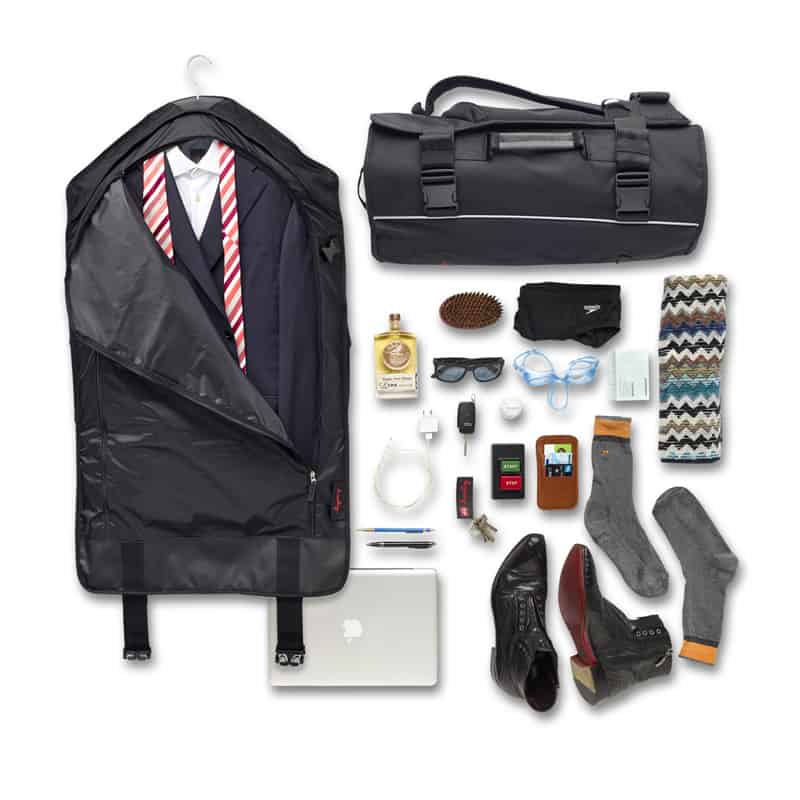 Most airline policies across the world have a standard of one personal item that you carry in your hands and store beneath the seat in front of you, and one carry-on item that goes in the overhead locker.
This can become an issue for business travellers, who might want to take a small carry-on suitcase, laptop, and a suit or garment bag. Will your garment bag count as a personal item or a carry-on bag? We've done some research to help shed some light on this common question. Here's what we found:
Australia
Australian airlines are quite accommodating for suit bags, with the majority allowing a garment bag in the cabin in addition to your carry-on bag and personal item.
Major Australian Airlines Garment Bag Policy
Qantas: In addition to your personal item, Qantas allows for one 105cm (41in) bag plus one185cm (73in) non rigid garment bag.
Virgin: Their policy states one small bag or briefcase (total linear dimensions 105cm), plus one non-rigid suit pack or garment bag that does not exceed dimensions of 114cm x 60cm x 11cm. You're also allowed to bring a personal item.
Jetstar: Jetstar allows a suit bag as long as it is within their 7 kg allowance.
United States
We've found that all US airlines seem to consider garment bags as carry-on and not a personal item, no matter how small it is.
Carry-on Garment Bag Dimensions for Major US Airlines
American Airlines: Carry-on bag shouldn't exceed 22x14x9 inches
United Airlines: According to their Contract of Carriage, traditional hanging garment bags are considered cabin baggage requiring a seat. However, a Henty suit bag with its unique design is likely to fit just fine in overhead compartments.
Delta Airlines: Carry-on combined length, width, height of baggage must be within 45 linear inches (114 cm).
United Kingdom
Like the US, airlines in the United Kingdom seem to consider traditional suit bags as part of your regular carry-on allowance, and not an item that can be brought onboard in addition to this allowance.
Carry-on Garment Bag Requirements for Major UK Airlines
British Airlines: Garment bags can be taken as part of your hand baggage allowance: One hand luggage (56cm x 45cm x 25cm) and one personal item.
Easyjet: According to their Restricted and unusual items policy, If you'd like to bring a traditional garment bag you must purchase a 'large cabin bag' allowance. To avoid this extra expense, consider using Henty travel suit bags which feature a unique design that allows them to fit in overhead compartments, unlike tri-fold suit carriers.
Virgin Atlantic: Garment bags can only be brought onboard as hand baggage if they are within the dimensions of the hand baggage allowance (23 x 36 x 56 cm).
Recommended Carry-on Garment Bag
Henty has designed suit travel bags, specifically for business air travellers. They fit within the airline carry-on limits and are super durable. Unlike traditional suit bags, your suit will be perfectly fine when stored in the overhead locker, and when you arrive at your destination, your clothes will be wrinkle-free and ready to wear. There's no guarantee that there will be space on board to hang your traditional suit carrier, which is why it's best to pack your suit in an innovative Henty travel garment bag.