Travelling out of state for a week or less can create a confusing packing situation. You want to make sure you have everything you need while away, without lugging around heavy luggage full of items you don't really need.
Packing light will save you time, money and can even benefit your health. Here are our top tips for limiting your luggage when travelling:
The Benefits of Packing Light for Travel
Why should you be trying to pack light? There are lots of benefits that come from avoiding the use of heavy checked luggage in your travels. These include:
Avoid expensive checked baggage costs
Skip the bag check-in line
Less weight to carry
Less valuables to lose in transit
Easier to quickly find everything you need
Avoid packing items you won't end up using
No need to pay for a luggage trolley at the airport
Explore as soon as you arrive at your destination without heavy baggage
Carry-On Instead of Checked Luggage
The most important part of packing light is to be able to fit a week or so worth of items within a carry-on bag. This helps you keep all your possessions with you and makes your transit through airports and at your destination easier. The reality is, packing all your belongings for a short trip into only a carry-on bag is almost always entirely possible.
Picking the Right Carry-On Bag
For the best experience packing light, you will want to choose a bag that has been designed for travellers. These bags are often small enough to fit in overhead compartments, but have a surprising amount of room for your travel essentials.
The Best Carry-On Bags
The CoPilot backpack, for example, has enough room for 5 shirts/blouses, a laptop, 2 pairs of shoes and even two suits! The Travel Brief multipurpose travel backpack is another great option when packing light, as it contains enough space for a change of clothes and even two 15" laptops. Bags designed for travel will often have separate compartments for things like dirty clothes, electronics and your passport or wallet, making them a great choice when packing for a weekend away.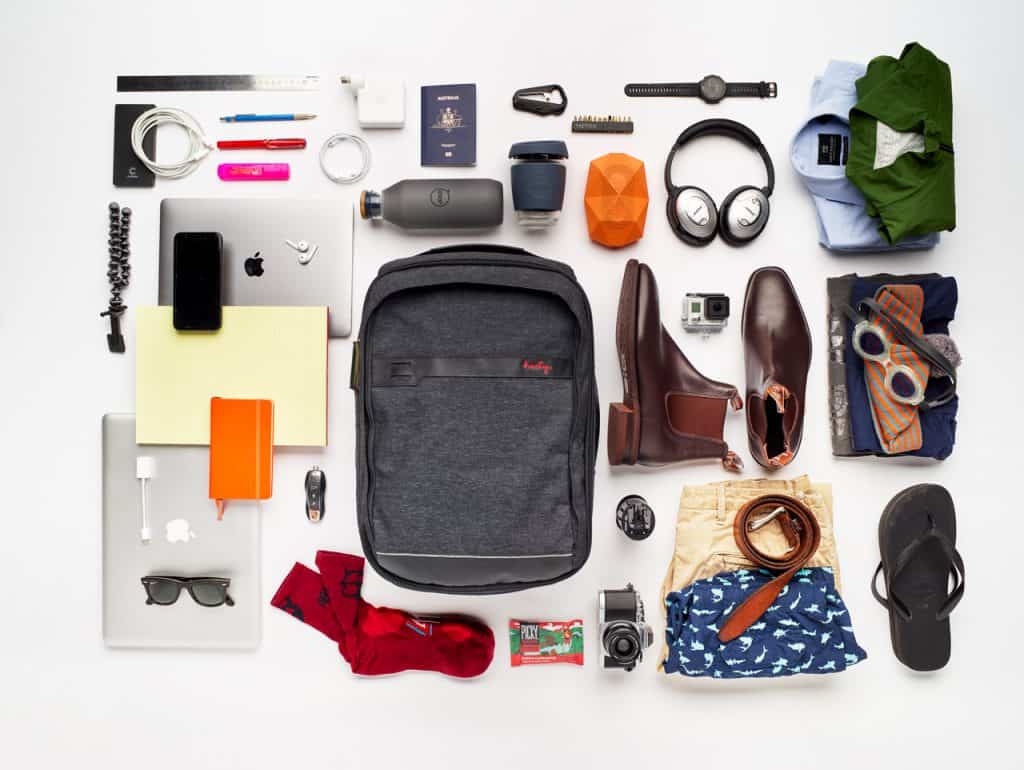 Use Compression Packing Cubes
Compression cubes, also known as packing cubes, are helpful products when it comes to packing light for travel. They can help you to separate your dirty clothes from clean, keep your shoes away from your garments, or store your gadgets. They will compress down and shrink to allow you to fit more items in your suitcase or carry-on bag.
Weigh Your Bag
Luggage scales are a must-have item for any traveller, but especially for those trying to limit themselves to a carry-on bag. They are inexpensive, small and easy to keep with your luggage at all times. They can be a real lifesaver when it comes to avoiding oversized baggage fees at the airport. While you might think your bag is within an airline's carry-on policy guidelines, a luggage scale will provide you with real peace of mind.
Limit Your Toiletries
Keep all of your toiletries together within a single transparent toiletry bag. You may need to purchase travel-sized toothpaste, perfume/cologne, shampoo and conditioner, but it will be helpful when locating your items and not exceeding the airline's policy for liquids.
Wear Bulky Garments & Layer Your Clothes
This is easier to do during winter and in cooler climates, but instead of packing that jacket or coat, or your chunky boots, wear them on the flight to and from your destination. You can remove your coat during the flight if it gets uncomfortable, but it will allow you to pack much more into your carry-on if you are able to wear some of your heavier items.
Check Whether Your Hotel Has Its Own Hair Dryer
Some travelers automatically pack their hair dryer for every trip, but these days it's much more common for even an economy hotel or AirBnB to include a hairdryer in your room. If the website doesn't list a hair dryer in their amenities section, don't immediately pack your own. Instead, give the hotel a call and enquire, as this can massively help you to achieve your goal of packing lighter.
Pack an eReader Instead of books
Travelling is a great opportunity to catch-up on your reading list. More free time and hour or longer flights are the perfect time for relaxing with a good book. That's what makes Kindles and other eReaders such excellent products for travellers. They're extremely thin and lightweight, with the capacity to store a whole library of books compared to only being able to bring one or two novels with you. They'll take up virtually no space; even if you prefer your books in the paper variety, it makes sense to have an eReader just for travel.
Bringing a Suit? Get a Purpose-Made Travel Garment Bag
If you're a business traveller, or traveling to a wedding, it may be necessary to pack a suit or dress for the occasion. The good news is that it is still possible to travel light with a suit. Henty designs suit travel bags which meet airline carry-on requirements and have clever features, ideal for business travellers.