Ergo–what? 
It's a backpack – you fill it, you haul it over your shoulder, and you're set. There can't be much more to it, right? THINK AGAIN. An ergonomic design and setup transcends the everyday backpack. An ergonomic suit bag means you're protecting your back, not feeling the strain, and looking seriously slick while you do it. We don't want you joining the legions of backpack wearers who choose to suffer, instead conquer the commute to work.
Because let's face it. An non-ergonomic design invites an army of issues that your life could do without. We're talking poor posture, a compressed spine, and even long-term muscle and nerve damage where your pack digs into you. And every commuter will understand the dread of the 'bag bounce'. There is simply a world of difference between the suit bag that moves on its own, and the one that moves in unison with you. An ergonomic setup does just this. It minimises your suit bag's horizontal and vertical swing. After all, your bag should be an extension of you, not a beast on your back to be tamed. So to all those who still suffer in regular backpacks, let's show them how it's done. 
"Even when full, the bag is very comfortable. The hip belt and chest strap stop the bag from bouncing up and down."

Bicycle Queensland's review of the Wingman Backpack 
Suit Bag Ergonomics 
Let's get technical. We know suit bags and we know ergonomic design. So how's it done? First, stabilise your pack. Wear your suit bag and tighten the adjustable straps so that the cylindrical design sits comfortably & closely to your body. You want it to sit evenly against your back and not feel like it's sagging. This will stop your lower back from taking the grunt of the weight and you from leaning forward – hello bad posture. 
TIP: Pack smart by tucking heavy or bulky items close to your back and lighter items within the outer sections.
When wearing your suit bag, the top should not extend above your shoulders, and the bottom should not sit so low that it's resting below your hips. And don't forget to partner up with your waist strap to take the pressure off your shoulders. The key is always to distribute weight so that no one part of your body is carrying your pack.
TIP: Avoid straining your muscles by always using both shoulder straps rather than the one.
"You carry the Wingman via a padded shoulder strap "again, like a messenger bag" with another strap that goes from your chest down to the middle of the bag to add stability."

Road.cc review of Wingman Backpack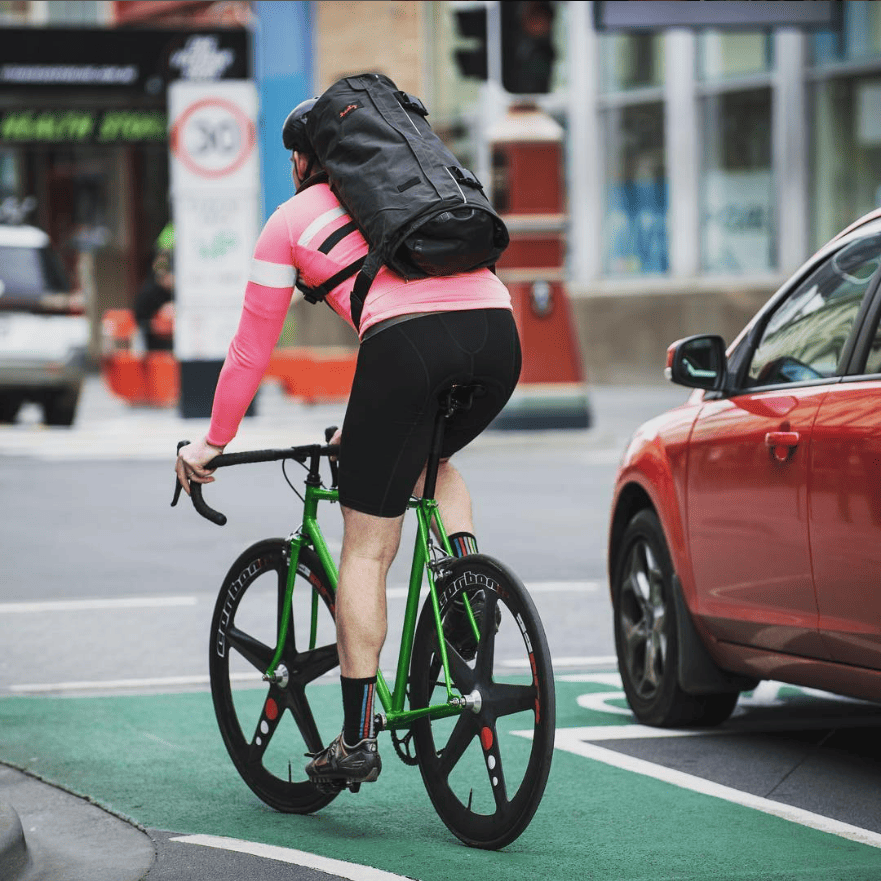 The Suit Bag That Gives You Space To Perform  
Ergonomic design gives you absolute freedom to move without the post-activity ache – whether it's cycling, motorcycling, running, mountain biking, walking, or jet setting. Whatever activity gets your blood pumping, you'll need a generous amount of movement for your arms and upper body. Our Carry Smart system features semi-rigid ribs which work to restrict the width of your suit bag when rolled & ready – giving your shoulders and arms the space they need. Stay tactical with padded shoulder straps that can be adjusted on the go and a hip belt that gives you stability & balance.
For cyclists, take a look at Bicycle Queensland's raving 6 month review of our suit bag – who reports that 'I have never had it bang into my helmet as is sometimes the case with larger commuter bags'. For runners, check out the full review by The Run Commuter, who really put our Wingman Backpack to the test.  
"Unlike a regular pack, the Henty Wingman Backpack did not affect my arm swing, and it was a comfortable run for the entire 5.2 miles back to the train station."

The Run Commuter's review of the Wingman Backpack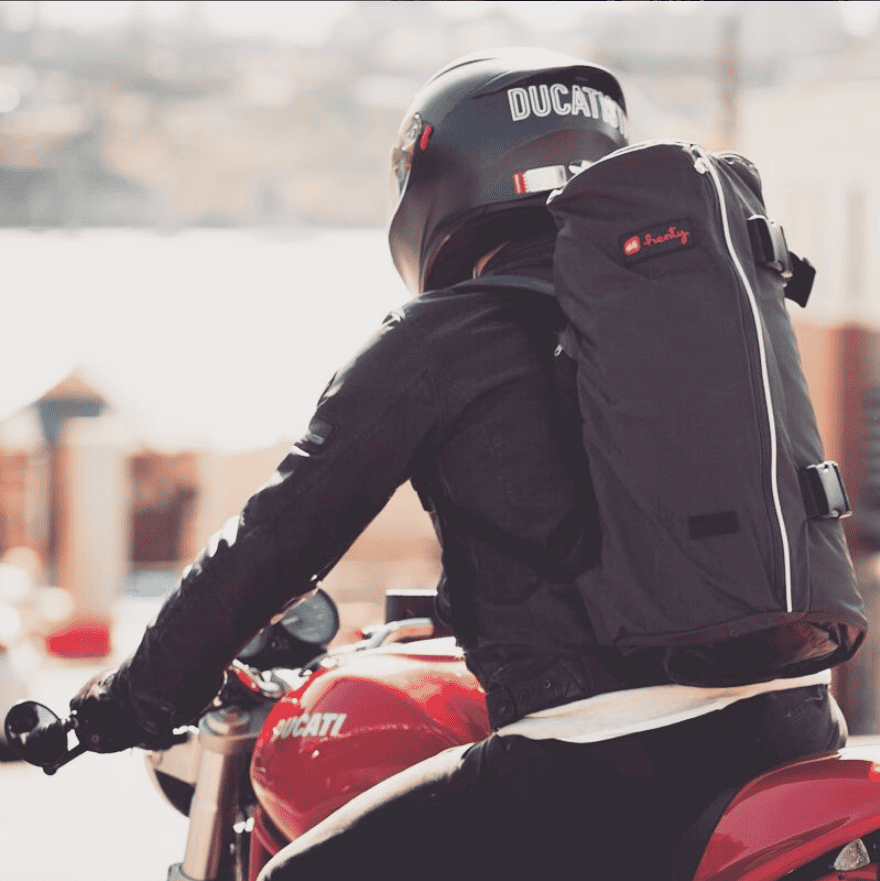 Code Red
While we've given you the guide to A+ suit bag ergonomics, you still need to recognise the warning signs. The biggest indication is your posture. Observe if you're beginning to lean forward or bend to your side to handle the weight. You'll know if your arms or shoulders are under too much pressure if they are left feeling numb or tingly. When you take off your backpack, check your shoulders for red marks. As a general rule, if wearing your backpack leaves you feeling uncomfortable, sore, bent over, or numb . . . you're code red. Time to invest in a Henty Wingman, friend.