Tactical Mountain Biking
There's nothing quite like the thrill of mountain biking! But let's face it, a MTB backpack can make or break a ride. So don't let your gear weigh you down. Instead, make your mountain bike backpack the pinnacle of your MTB experience. We're talking the elite Enduro 2.0 and the Enduro Junior for your little daredevils.
Above all, take your Henty MTB backpack with you to stay tactical. Come prepared and be adaptable to changing plans, shifting weather, or unexpected injury. For starters, never take a weather forecast for granted. Always have a contingency plan for days when the weather takes a turn for the worse. Pack sunglasses, sunscreen, wet weather gear, a hat for UV protection in summer, or a beanie to combat the cold in winter. After all, you're out in the bush and exposed to the elements.
If you haven't already, pack a first aid kit. Seriously. Whether it's biting off more than you can chew on a rocky slope, or tangling with a snake . . . when you need your first aid kit, you REALLY need it. Tuck one away in your mountain bike backpack and hope you won't be reaching for it anytime soon.
TIP: If you're unfamiliar with the area, pack a map in your MTB backpack. It's lightweight, won't take up much space, and will make your MTB trip feel more adventurous!
"It ticks the boxes for storage capacity, durability, and comfort for riders who need to carry essentials that can't easily be stuffed into cargo bib-shorts, like cold-weather layers, photo gear, or a three litre water bladder."

Pink Bike's review of the Enduro 2.0
A MTB Backpack For Serious Hydration 
Continuous, high intensity exercise means water – and a lot of it. But how much water are we really talking about? Men are recommended to drink about 10 cups of fluid every day, and women about 8 cups. On the other hand, children need between 4-8 cups depending on their age and level of activity. Not many of us can say we drink these amounts consistently and while we might pack water, we won't make a point of drinking it at regular intervals. This is where Henty's water bladder comes into play.
The ultimate hydration system is one that lets you drink easily while on the move – which the hose and mouthpiece make possible. Signs of dehydration don't just include thirst. You might feel dizzy, lightheaded, tired . . . everything that spells disaster when you're mountain biking at high speed!
TIP: Begin your ride well hydrated and aim to drink water from your MTB backpack every 10-15 minutes.
"The Henty Enduro Junior is a good hiking and biking water source . . . sometimes I even use it like a water bottle when I can't find mine."

Mountain Weekly News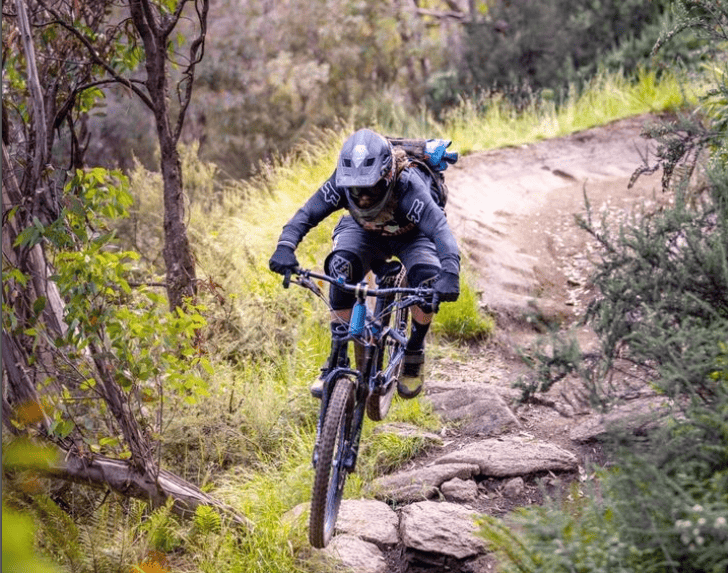 Stash Your Accessories
Your MTB backpack isn't just for water and emergency gear . . . because where's the fun in that? The Enduro is your stash-on-the-go for all the little goodies that make your mountain biking trip seriously epic. With multiple pockets and webbing for storage, there's plenty of space to stash all your accessories. Consider packing your photography equipment, a pair of binoculars, an A5 notebook & pen . . . Mountain biking is the main event, but take the time to enjoy a hobby while you're at it!
TIP: Store precious equipment in the main compartments of your MTB backpack, as the mesh gets dirty after a particularly wet and wild ride.
"There are tonnes of storage options with the Henty pack . . . The multiple storage options and pockets help organise and keep things in plain sight since many of the pockets are mesh."

Enduro 2.0 Review by Crank Joy