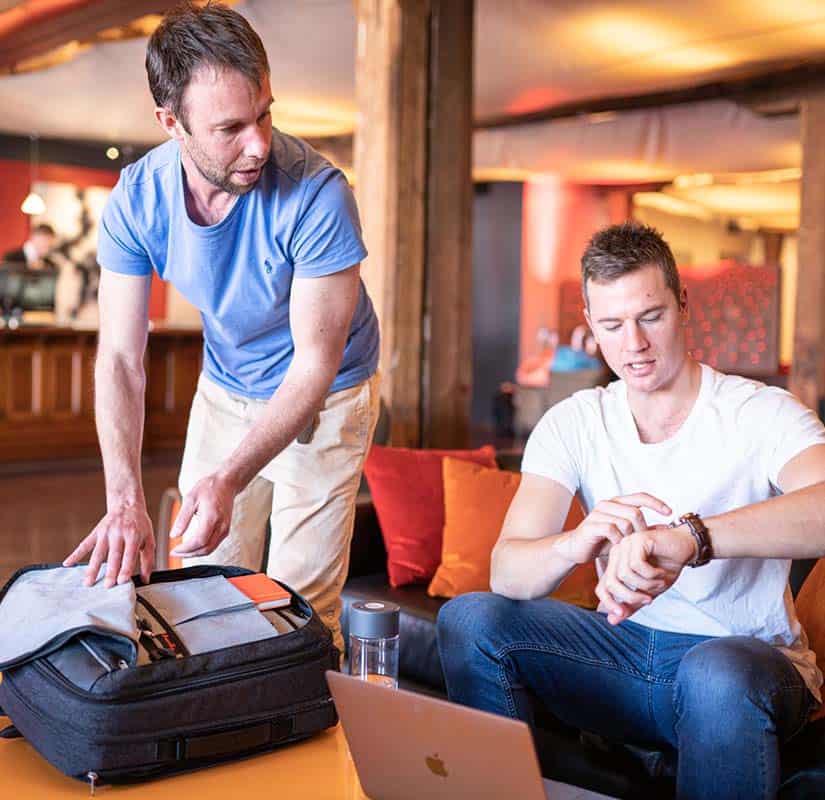 As business owners with products that are distributed globally, we're no strangers to the occasional business trip for meetings with our stakeholders and supply chain network. Over the years, we've had to become pretty good at packing efficiently for these business trips.

In this guide you'll find a list of the essentials to bring for any business trip length: from overnight trips, to one, two or three week trips. We'll list both the must-brings for female and male business travellers. To start with, let's examine the items that every business traveller needs to bring with them no matter their gender or length of the trip.
Essentials for Everyone
Here are the important bits every business traveller should be making sure to pack their luggage:
Laptop and/or Tablet
Phone Charger
Laptop / Tablet Charger
Power Bank / Portable Charger
Headphones
2 Pens & a Notebook
Business Cards
Wallet
A back-up credit card, stashed separately to your wallet & other valuables
Documents: ID, boarding passes, passport
Printed copies of itineraries & Car/Hotel/AirBnB reservations
Medication & Vitamins
Hand Sanitiser
Chapstick (especially if you're going to Las Vegas!)
Door stop wedge (useful as a back-up security measure in hotels and very portable)
Reusable Water Bottle
Rapid Antigen Tests
Laptop and/or Tablet
This will be necessary for most business travelers in order to get work done on the plane, in the hotel, at meetings or at an office. Choosing a lighter laptop will help make travel easier for you, and may help when storing your device in your carry-on luggage.
Power Bank
A power bank is very helpful for travel. While many airports have charging stations, a power bank ensures you don't have to go looking for a free spot to charge your phone, laptop and other electronic devices. Keep in mind it will need to be under 100Wh to be allowed in the cabin, otherwise it will go with your checked luggage.
Headphones
Headphones are an essential part of any business traveller's kits. We recommend choosing a pair of wireless, over-ear bluetooth noise cancelling headphones. This will help with concentration and relaxation on planes, or when in public spaces.
Clothing Packing List for Men
Every-day & Essentials
Underwear
Comfortable Pants/Jeans/Shorts (x2)
Casual Shirts (2-3)
Socks
Comfortable Shoes
Pyjamas
Gym Clothes
Sports shoes
Business Attire & Formal Wear
Suit & Tie x 1
Cufflinks x 1
Garment Bag
Business Shirts (1 per meeting/business event)
Slacks / Dress Pants (x2)
Undershirt in Matching Colour
Dress Shoes
Belt
Watch

Henty Travel Suit Bags are a great way to travel with a suit, purpose-made for business travellers. Read our guide on how to travel with a suit for more information. Our packing cubes can help make packing easier, separating and protecting your underwear, socks, belt, watch and tie.
Toiletries
Toothpaste & Toothbrush
Floss
Comb/Brush
Deodorant
Travel size shampoo & conditioner
Cologne
Razor
Mouth Wash
Cleanser & Moisturiser
Sunscreen
Stain remover pen
To avoid being held up by security, ensure your items stay within the 3oz limitations. Most airlines recommend liquids are kept in a clear bag. The Henty T-Bag toiletry bag was designed for effective storage of toiletries
Clothing Packing List for Women
Every-day Essentials for Women
Underwear
Bras (At least 1 white/nude and 1 black to match outfits)
Casual dress or skirt
Cardigan/Jacket
1-3 Shirts
Pants / Jeans
Pair of flats
Sports shoes
Gym Clothes
Jewellery
Pyjamas
Business Attire & Formal Wear for Women
Mid-length dress
Skirt
1-3 Dress Shirts, one for the number of days you have business meetings/events to attend
Matching Socks
Blazer/Business Jacket (x1)
Heels
Stockings/Pantyhose (1-3 pairs)
Handbag
For wrinkle-free transport of your shirts and dresses, store them in a travel-proof garment bag, such as the Henty CoPilot. You can separate your underwear and accessories into individual packing cubes to fit more and organise your belongings.

Toiletries
Toothpaste & Toothbrush
Floss
Razor
Travel Makeup Kit
Pads/Tampons/Menstrual Cup
Spot stain remover
Hairbrush/Comb
Hair ties
Perfume
Travel Shampoo, Conditioner
Straightener
Skincare & Sunscreen
Make sure your skincare fits within 3.4oz/100 millilitres to avoid issues. Store your toiletries in a transparent travel toiletry that is easy to access when on the go.
Sleep Essentials
If you have trouble sleeping on planes or at hotels, consider packing the following to help get a better night's rest when away from home:
Eye Mask
Travel Pillow (for sleep on planes)
Essential Oils (Lavender, peppermint, chamomile)
Portable White Noise Machine
Following this guide means that no essentials will be left behind on your next business trip. Refer to it whenever you have an upcoming trip to make planning and packing a breeze!